Apparent Software Relaunches Socialite Frames & Borders
by admin on April 4, 2020
Apparent Software announces the relaunch of Socialite | Frames & Borders in the Apple App Store with Version 2.0 including the ability to customize displayed content  with even more stickers (Eyes! Mouths! Stay Home, Stay Healthy!) and optional subscriptions.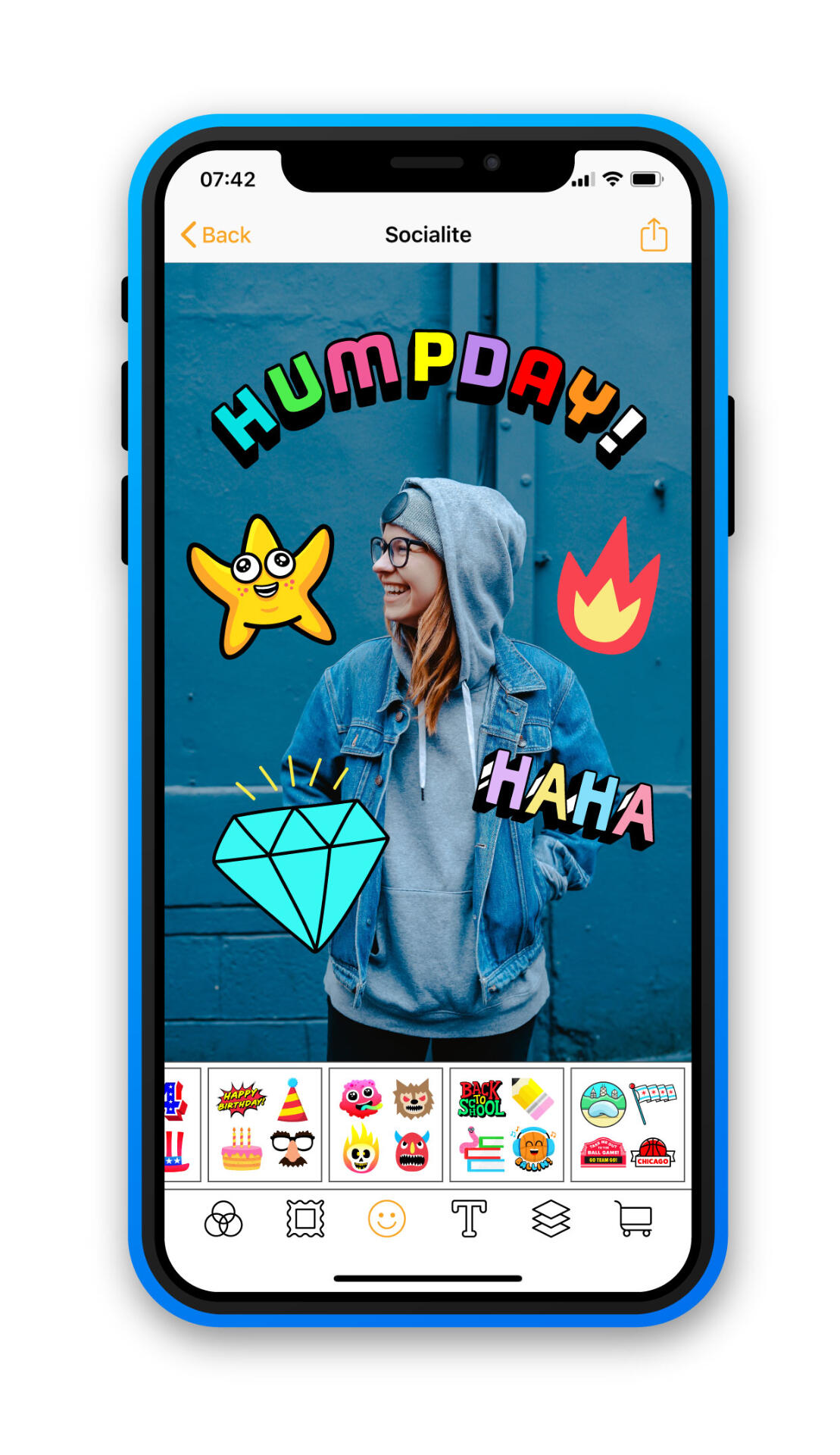 Says Apparent Software designer Braden Froese, "As a designer of Socialite's stickers and frames, I have an absolute blast illustrating each pack. I am especially excited for the latest release because the Eyes and Mouths stickers can make any photo look hilarious. I know that our team is extremely happy with version 2.0 and we look forward to seeing the designs that our users create with Socialite!"
With Socialite:
Frame photos fast with dozens of original frame looks
Square crop, share, sit back & enjoy the love
Choose from hundreds of original stickers, including location packs, holiday packs, occasion packs and more
Add color filters, layers, and captions, all from a straightforward interface that's ideal for casual users
Socialite's huge Comic Stickers set contains a full alphabet plus speech bubbles, everything needed to turn digital art or photos into single-panel comics right on an iPhone
Every sticker in Socialite can also be sent in Messages, instantly upping one's texting game
Says Jacob Gorban, veteran Mac developer and CEO of Apparent Software, "I'm proud of the combined effort of our small team, which made Socialite easier to use with the multitude of stickers already included in the app, and those planned for future releases."
Because Socialite's frame & sticker collection grew so big, users needed a way to easily find their favorites. Socialite 2.0 offers a new Settings gear at the end of the sticker and frames drawer. In Settings, users can hide packs they don't want to use right now, and reorder the packs so their favorites come first in a drawer.
Users who want to never miss a pack can now choose to subscribe to Socialite. Subscriptions cost $1.99 USD a month or $14.99 USD a year, and unlock all content, including every new pack, during that time. Users can still choose to buy premium content pack by pack, and the Socialite team will continue to release occasional free packs. New content in this release includes: Eyes Stickers (in-app purchase or free to subscribers), Mouth Stickers (in-app purchase or free to subscribers), and the Stay Home, Stay Healthy pack, commemorating this strange time we struggle through together.
Krystian Kozerawski, our programming lead on Socialite, agrees, "I am glad and proud of how the Socialite app developed in the last year. We provide more and more fun content and finally we have implemented subscriptions that let our users try all the stickers and frames, with the price of a monthly subscription equal to the price of a single premium sticker or frame pack. And you still can buy and download individual packs. With this release, we also provide you our free "Stay Home, Stay Healthy" pack. Don't hesitate to try it out!"
Socialite | Frames & Borders 2.0.3 is Free (With In-App Purchases) and available worldwide exclusively through the App Store in the Photo & Video category. Socialite is made with love by Apparent Software, an independent Mac & iOS software development company based in Winnipeg, Manitoba, Canada. Apparent Software also makes Trickster, ImageFramer, and Cashculator, all for macOS.