If you are looking to upgrade your Android phone to an iPhone, then there is no need to buy a new phone; you just need a theme pack to install on your phone to make it look like an iPhone 15 or Pro Max.
iOS 17 is Apple's newest iPhone operating system update and introduces many user-requested features and welcome additions, such as the Journal app and StandBy smart display mode for bedside reading.
The update also offers improvements to specific apps, and incorporates some elements inspired by Android; however, it won't make iPhone more powerful or customizable like its Android equivalent.
Best iPhone 15 Launcher for Android
1. iPhone 15 Launcher, OS 17
iOS 17 introduced numerous features to Apple's operating system. From battery percentage indicators to keyboard haptics, Apple has added many useful and interesting new features to its mobile platform.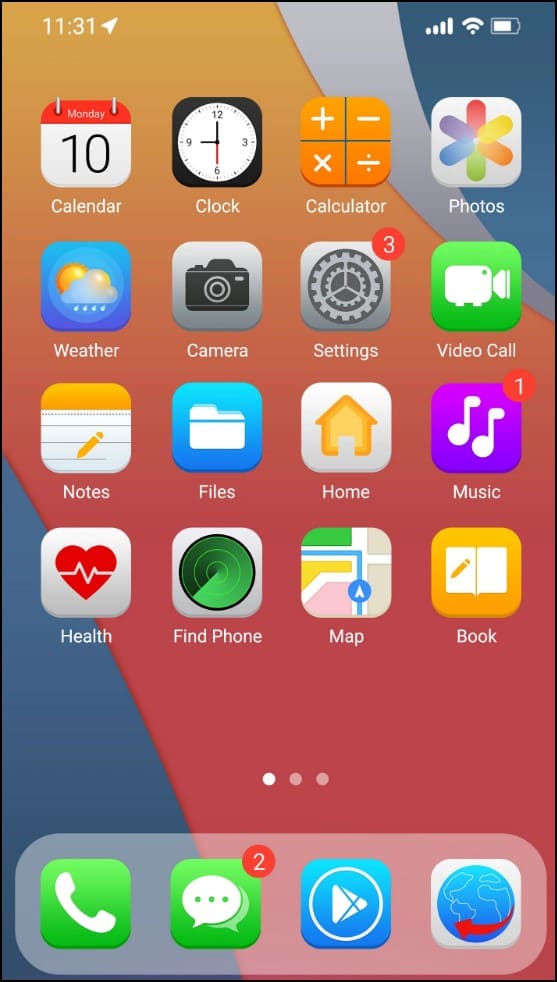 Theme by SaS Developer and is an attractive personalization app published in Google Play under Other. With high user reviews, this versatile Android application works on most devices while providing an effortless experience with beautiful wallpapers and customized icons.
Features:
Smart Search: This is a search feature that you can access by swiping down on your screen. It helps you find things quickly and easily.
Beautiful Wallpaper: It provides attractive background images to make your screen look nice and personalized.
2. Launcher iOS17 Lite
Launcher iOS17 Lite is an Android launcher designed to emulate iPhone 15-style OS17 for an authentic iPhone experience. It comes packed with many features, including iOS search and smart toggles.
It offers extensive settings. While most launchers allow you to change desktop grid allotment (so you can control how many apps appear in each panel) and scrolling transition animation, it goes further by offering scrolling transition effects animation as well.
This app gives you access to an assortment of iPhone wallpapers. Plus, there's even a widget which displays weather forecasts on your home screen!
Key Benefits:
Instant Access: Swipe down from anywhere on your screen to access Spotlight Search.
Effortless App Search: Quickly find and launch apps by typing their names.
Quick Contact Retrieval: Easily call or message contacts directly from the search results.
Comprehensive Search: Search for apps, contacts, emails, messages, and more.
Customizable: Tailor your search experience with settings like result sorting.
Privacy Assurance: Your privacy is respected during searches.
Regular Updates: We continuously improve the user experience.
3. Launcher iOS 17, Phone 15
It is one of its greatest features, giving you convenient one-tap access to Wi-Fi and cellular data connections, turning Airplane Mode ON or OFF, raising or lowering volume or display brightness settings, and more.
Wouldn't it be nice if we could edit controls within Control Center rather than having to go into Settings and tap unnecessary extra controls just to reach our destination?
This theme makes it easy and makes your Android mobile look much more premium.
Features:
iOS Launcher Support: Seamlessly integrates Spotlight Search for enhanced functionality.
Effortless Access: Swipe down to activate the search bar from any screen.
Application Search: Quickly locate and launch apps by typing their names.
Contact Search: Easily find and contact your friends, family, or colleagues.
Comprehensive Search: Covers apps, contacts, emails, messages, and more.
Customizable: Personalize your search settings, including result sorting.
Privacy Protection: Ensures your sensitive information remains secure during searches.
Regular Updates: Ongoing improvements for an exceptional user experience.
4. Launcher for iOS 17 Style
Launcher for iOS 17 Style for Android phones offers a sleek and intuitive user experience similar to iPhone. It supports gesture control for navigation with swipes, pinches and taps as well as shortcut interaction through its iOS-style gesture controls.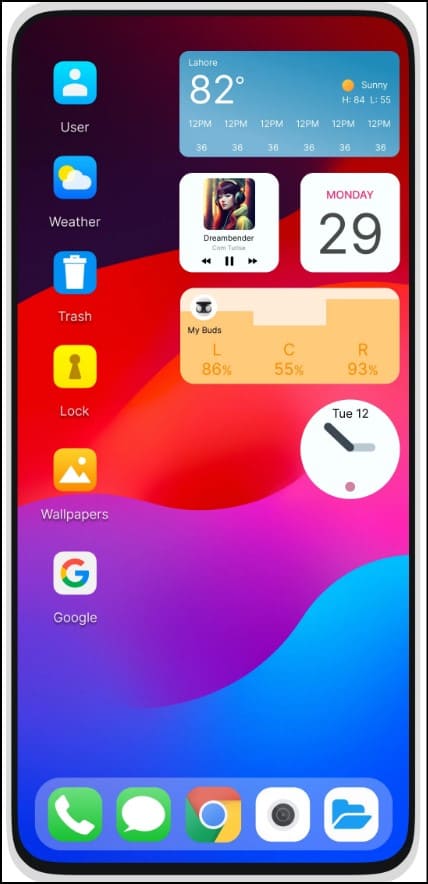 Some users worry that launchers could drain their phone's battery, but most are safe to use as they typically don't interfere with or alter your native operating system in any unsafe manner. Furthermore, when uninstalled they typically do not delete personal data either when removed and most have no ads when available through Google Play Store.
Features:
iOS 16 and 17 Interface: Get the elegant iOS 16 and 17 user interface on your Android device.
Sleek Design: Enjoy a polished and stylish interface that mirrors iOS aesthetics.
Intuitive Navigation: Easily navigate your Android device with an iOS-like layout.
Advanced Features: Access iOS-like features to enhance your Android experience.
Seamless Integration: Switch to an iOS-like environment without needing an iPhone.
Immersive Experience: Dive into the iOS world with a launcher that replicates its style and functionality.
Android Compatibility: Keep using your Android device while enjoying the iOS experience you love.
5. iOS Launcher: iPhone 15 Pro
It is an Android launcher designed to add a stylish look and OS phone theme to your device, along with various interesting features to enhance and enrich the Android smartphone experience.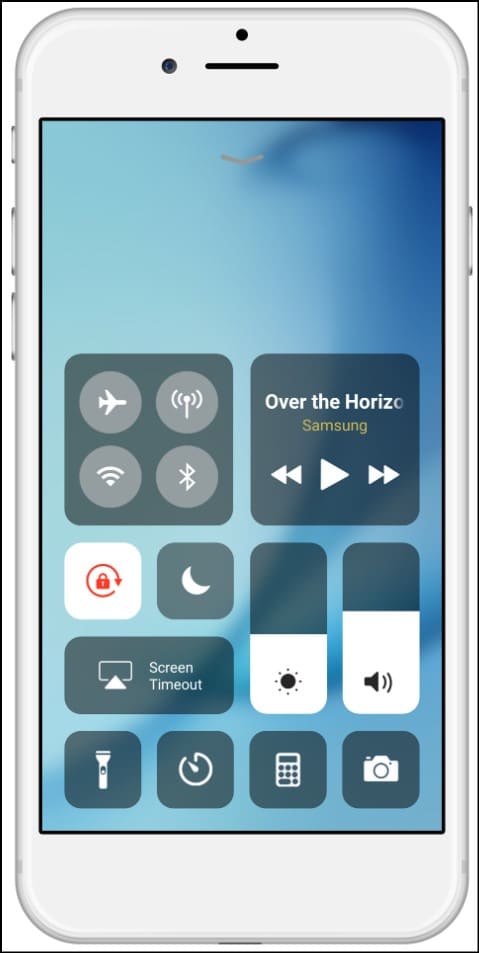 It features customizable shortcuts and widgets to provide easy access to frequently-used apps, contacts, websites and more. Furthermore, Siri integration provides for hands-free operation of this application.
The interface has been carefully designed for maximum efficiency and convenience, offering intuitive gesture controls that enable users to navigate and interact with shortcuts and widgets using swipes, pinches and taps.
Features:
Airplane Mode: Quickly toggle off Bluetooth, Wi-Fi, and cellular connections.
Wi-Fi: Activate Wi-Fi for browsing, streaming, and downloading.
Bluetooth: Connect to headphones, car kits, and other devices.
Do Not Disturb: Silence calls, alerts, and notifications when the device is locked.
Portrait Orientation Lock: Prevent screen rotation.
Adjust Brightness: Modify screen brightness from any screen.
Flashlight: Use the camera's LED flash as a flashlight.
Alarms and Timer: Set alarms, timers, and check different time zones.
Calculator: Perform calculations with a standard calculator interface.
Camera: Quickly access the camera for capturing moments.
Audio Control: Play, pause, and adjust volume for music and more.
6. iLauncher iOS 17
It is an effective way to personalize your Android device with unique looks and add plenty of useful features, from customizing home screen layout to controls and more.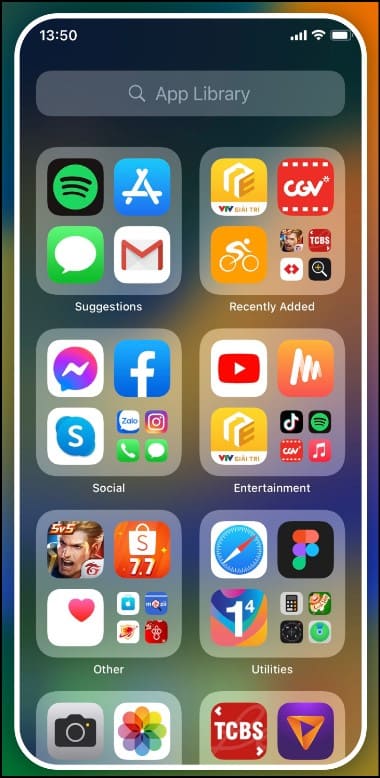 Folders allow you to tailor different aspects, like pop-out animation and preview appearance of apps in folders. Furthermore, you can change how many apps can fit within each folder.
Launcher provides users with customizable options without taxing system resources, making this an essential purchase if they're hoping to make their Android look like an iPhone.
Features:
Control Center iOS 17 iPhone 15 – New MIUI Control Center:
Instant Access: Quickly access essential functions such as taking pictures, enabling Wi-Fi, and activating the screen recorder.
Customizable Controls: Personalize your Control Center by adding up to 12 controls for apps, settings, and features.
Lock Screen with Notifications iOS 17:
Quick Access: Access useful features and information directly from the lock screen.
Customizable Lock Screen: Create a unique lock screen with iOS-style passcodes and wallpaper themes.
Time, Date, and Notifications: Stay updated with the current time, date, and notifications on your lock screen.
Camera and Flash: Open the Camera app and turn on the flash from the lock screen.
App Notifications: Receive app notifications even when your phone is locked.
Passcode Protection: Secure your phone with a passcode for added security.
7. Launcher iOS 17 Pro
If you want to give your Android smartphone an updated appearance, download this app. It provides various iPhone 15 and iOS 17 themes to customize the look of your device.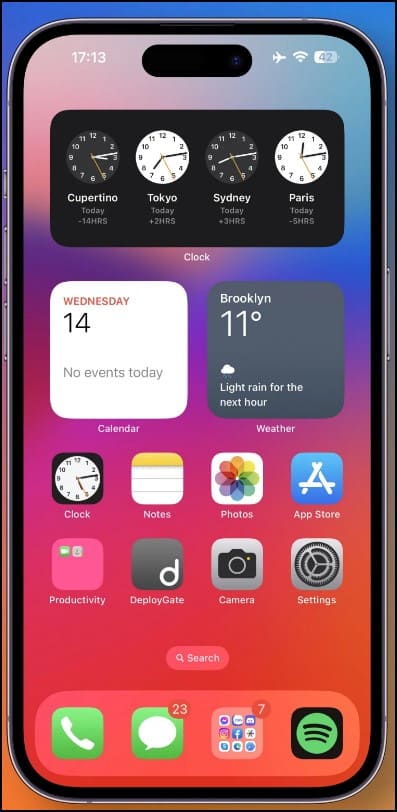 Launcher that delivers both speed and beauty without compromising what makes Android appealing, organized apps into smart folders for easy navigation and has an auto-search feature to keep your phone operating at peak performance.
It provides an array of exciting effects and wallpapers to customize your home screen and support popular notches.
Features:
Ad Removal: Enjoy a clean user interface with no ads.
iOS 17 Style: Experience a friendly user interface with iOS 17-inspired row and column icons.
Unique iOS Wallpapers: Choose from 50+ distinct iOS 17-style wallpapers.
Color Widgets and Themes: Personalize your device with color widgets and themes that support both light and dark modes.
Customizable Lock Screen: Tailor your Lock Screen with iOS 17 design elements and widgets.
8. iOS 17 Launcher with App Lock
This iPhone theme app on Google Play offers an attractive yet simple design. Additionally, iOS 17 wallpapers give your Android phone an authentic iPhone look.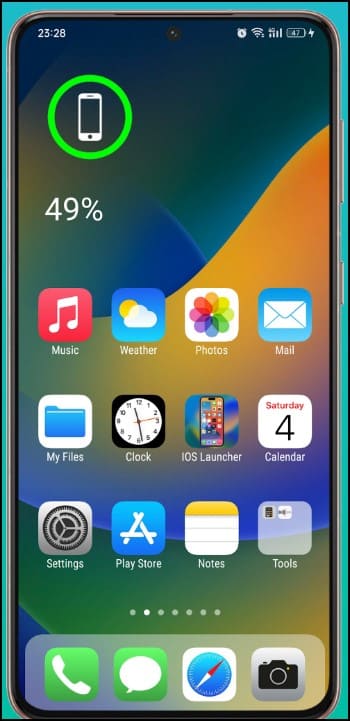 This app includes a Control Center which can be accessed by swiping down from the home screen, offering customizable themes and wallpapers as well as aesthetic keyboard styles.
This app is available to download for free and has an Everyone content rating. Designed specifically for Android devices running 4.4W+, its download size is 8 MB.
Features:
Apps Library: Categorize your apps like real iOS devices for efficient organization.
Lock App: Secure your apps from unauthorized access.
Today View: Access weather info, favorite contacts, and calendar events at a glance.
Apps Folder: Organize your apps with drag-and-drop folder creation.
Weather and Widget: Stay informed with a 10-day weather forecast widget.
9. iOS 17 Launcher
iOS 17 Launcher for Android provides you with an iOS-style launcher experience on your phone, enabling you to personalize it just like an iPhone. Change your home screen layout, app icons, themes and wallpapers – plus much more!
This iPhone theme creates an immersive, eye-catching visual experience when scrolling through home screens and apps, including apps in the App Store. Furthermore, you can personalize lock screens and control centers – all free to download and use!
Features:
Quick Bar (Accessed Apps): Easily access frequently used apps and customize the search bar with shortcuts.
Quick Search: Find anything on your device quickly, with search suggestions and real-time updates.
Hide Apps: Keep important apps hidden from the home screen.
Calendar Widget: Manage your calendar with a dedicated widget.
Photo Widget: Display your photos on the home screen with a widget.
Color Clock Widget: Personalize your home screen with a colorful clock widget.
Battery Widget: Monitor your device's battery status with a dedicated widget.
10. Launcher iOS 17
It is an Android tool designed to turn your smartphone into a looklike iPhone. This process alters everything on the screen and icons to mimic its distinctive form; however, it does not change how apps run or their functionality.
Its features are diverse. For instance, you can organize apps into folders automatically, apply different wallpapers and themes, as well as enjoy free download and use. Best of all? Ads can even be permanently disabled through an in-app purchase!
Features:
iOS Launcher Support – Control Center: Access a Control Center similar to iOS devices.
iOS Launcher Support – Assistive Touch: Utilize an Assistive Touch feature akin to iOS.
iOS Launcher Support – Wallpaper Change: Change your wallpaper to match the style of iOS devices.
These are the best themes that you can use on your Android phone without issues, hope you found this article helpful, and let us know in the comment section which one is best for you. All Launchers are available on the Google Play store so directly download from there.
Also Read: